Here are the top headlines from Fox News Flash. See what people are clicking on FoxNews.com.
NEW Fox News articles can now be heard on audio! Read this article. The wife of a U.S. Navy lieutenant who was involved in a car accident that killed two people and received a three-year prison sentence in Japan said she is doing everything she can to reconnect her children with their father.
The wife of Navy Lt. Ridge Alkonis, Brittany Alkonis, told Fox News Digital, "This is really about my kids. While it is painful for us, the ones actually paying the price for this and for the alliance and politics are my kids." "They are still in their formative years and are young people. They require a dad."
Shortly before Lt. Alkonis was scheduled to deploy, the family went through their ordeal after climbing Mt. Fuji in Japan. In an effort to create some memories for themselves and their children before he would be gone for the most of the next year, the family had been in Japan for nearly a year and nine months as part of a three-year tour of the nation.
On the family's return trip, Lt. Alkonis had a medical episode while driving and struck two vehicles, which then collided with two pedestrians, who later succumbed to their wounds. As a result, the memory was tragically changed into a tragedy.
Lt. Ridge Alkonis and a member of his family (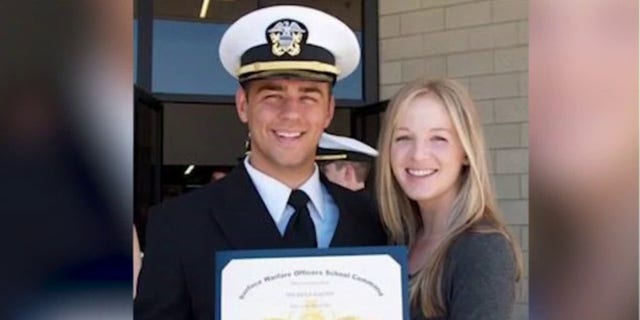 ). (Screenshot from "Fox News @ Night")
Brittany Alkonis said, "That day we drove from sea level and by the conclusion of the hike we were at almost 8,000 feet." "We continued hiking until we realized it was getting a little risky for the kids and turned around to go home. We were about five minutes away from our destination when Ridge lost consciousness while talking to our eldest daughter. He lost unconscious despite the fact that we were only moving at about 25 mph."
Alkonis claimed that soon before the accident, she had leaned her seat back and dozed asleep because she had been feeling queasy due to the elevation changes. The next time she opened her eyes was after the hit, when her daughter was unsuccessfully attempting to awaken her father.
Alkonis remembered, "It all occurred so fast.
Lt. Alkonis was detained while authorities investigated the accident, which his wife thought was standard procedure. However, her husband was soon the target of interrogations and solitary incarceration and was never freed from custody.
Alkonis stated, "This wasn't a drunk driver, he didn't nod off, but it only went terrible from there."
Lt. Alkonis would later be identified as suffering from acute mountain illness, which is brought on by rapidly ascending to high altitudes and can result in sudden fainting for up to 24 hours. However, the diagnosis had no application in Japan's distinct court system.
According to the family's lawyer, it is customary in Japan to express regret in court rather than trying to prove your innocence. As a result, the family issued a formal apology for the disaster and paid a $1.65 million compensation. They were informed that whereas more than 95% of those who take a similar course receive suspended sentences, Lt. Alkonis received the entire three-year term. Lt. Alkonis' appeal, which included his medical diagnosis, was also rejected, giving the family few choices for pursuing justice.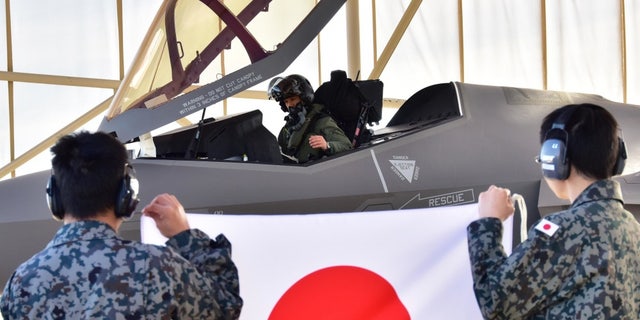 A F-35A from the Japanese Air Self-Defense Force (U.S. Air Force photo taken by Tech. Sgt. Louis Vega Jr.)
Alkonis added, "If we did know he'd go to prison anyhow, we would've told them no. "The results in both trials were both above and above what anyone could have anticipated."
Making matters worse, Alkonis thinks that one of the reasons her husband isn't getting fair treatment is that a powerful judge is related to one of the people who was killed in the accident.
One of the deceased is a relative of a powerful prosecutor at the Tokyo High Court, according to Alkonis. "I think that played a role in his sentence," the speaker said.
Sen. Mike Lee, R-Utah, and Rep. Mike Levin, D-Calif., both called on Japan to release Lt. Alkonis in response to her husband's case, bringing about a rare instance of bipartisan interest on Capitol Hill.
During remarks on the Senate floor last week, Lee said, "I find it nothing short of outrageous that an American who faced a medical emergency should be treated so cruelly by an Allied nation that he's protecting."
According to Lee, "It is obvious that the Japanese justice system is attempting to make an example of Lt. Alkonis due to a history of disagreements with our Status of Forces Agreement." He is being targeted due to his nationality as an American and the terrible fact that he experienced a medical emergency that ended in tragedy.
The Status of Forces Agreement, a pact between the United States and Japan that oversees disputes between American service members and host-nation governments, has long proven divisive among the Japanese. Although Japanese courts continue to have jurisdiction over crimes committed by American troops there, Japanese authorities occasionally feel that American servicemen are given special treatment because of exceptions to the regulations.
On Tuesday, July 20, 2021, Sen. Mike Lee, R-Utah, talks during a press conference at the Capitol. CQ-Roll Call, Inc./Bill Clark
By promising to keep working to achieve Lt. Alkonis' release, Levin made it plain that the Pentagon should be doing more in this issue.
He declared, "Neither I nor the Department of Defense must give up on Lt. Alkonis.
In addition, the case has repercussions for a long-standing alliance, as Lee acknowledged in urging President Biden to give the matter top priority.
We have been allies for a very long time, added Lee.
In addition, Mrs. Alkonis wants to include the White House, saying that she is "hopeful that the momentum is starting to swing in our direction" because of the backing from lawmakers.
Alkonis declared, "I am continually taking steps to get him out of jail." I will stay in Washington, D.C., for however long it takes to speak with the national security adviser or Vice President Biden.
Alkonis claimed that her family has suffered greatly as a result of the hardship in the interim. Her youngest child "doesn't grasp" that their father is in prison, unlike during deployments when she can explain that he is engaged in worthwhile work.
Additionally, communication is tough, with just monthly 20-minute visits and normal mail being used. Alkonis has decided to concentrate her efforts on obtaining her husband's release due to the sad truth.
Alkonis remarked, "I am hoping something comes out of the DC trip. "The kids need to understand that we are fighting for justice. We simply want to be treated the same as any other Japanese citizen; we are not asking for anything special."
Ashley Papa from Fox News contributed to this story.
Fox News journalist Michael Lee is. @UAMichaelLee Follow him on Twitter