Here are the top headlines from Fox News Flash. See what people are clicking on FoxNews.com.
NEW Fox News articles can now be heard on audio! Read this article. According to reports, an Amtrak train struck a truck in Maryland that was parked on the tracks.
A representative for the Frederick County Fire Department told Fox News Digital that the tractor-trailer was on the railroad lines when an Amtrak train was passing because of a traffic jam. "The tractor trailer had no else to go. The trailer was driven into a passenger truck by the impact of the train on the trailer's rear passenger side. Then, the passenger truck was rammed into the structure."
The spokesperson also stated that the truck driver, a single adult male, was transported to the hospital with non-life-threatening wounds.
The statement read, "All 140 Amtrak passengers, the driver of the tractor trailer, and the passenger of the passenger vehicle declined transfer."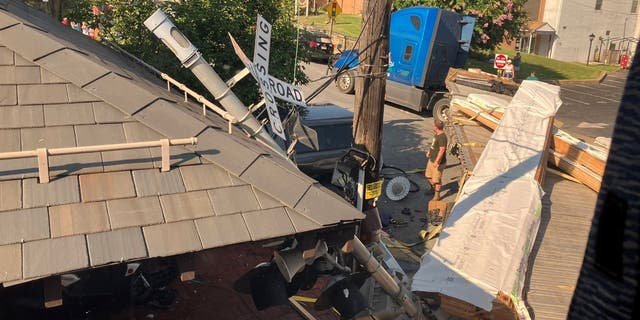 (Sean Emerson)
Tom Lynch, a reporter for WRC-TV, shared a picture of the collision and noted that the truck in Brunswick, Maryland, was transporting construction machinery.
Sean Emerson, a traveler on the train, shared a picture of the incident on social media.
At Brunswick, a flatbed truck pulled in front of the Amtrak Capitol Limited, according to Emerson. "smelt the emergency brakes and felt the jolt. I anticipate staying here for some time."
Fox News Digital contacted Amtrak for comment, but they didn't get back to them right away.
A vehicle mishap on the rails ahead has caused Capital Limited Train 29, which left Washington (WAS) on 8/3, to be stopped, according to a tweet from the train operator. As soon as new information becomes available, we will notify you.
Later, Emerson reported that the train had resumed its journey via Harper's Ferry, West Virginia.
The locomotive and train only had minor damage, according to Emerson, and Amtrak and CSX gave the go-ahead for us to continue. Truck beaten by train.
Fox News journalist Andrew Mark Miller. Send him a tip by email at AndrewMark.Miller@Fox.com or follow him on Twitter at @andymarkmiller.