On "The Story with Martha MacCallum," Iranian journalist and activist Masih Alinejad describes how a guy brandishing a weapon was outside her house.
NEW Fox News articles can now be heard on audio! Read this article. Calls for President Biden to refuse the group any visas have come from officials and analysts alike in response to plans for Iranian President Ebrahim Raisi to attend the United Nations General Assembly in September despite U.S. sanctions.
According to Richard Goldberg, a former member of the National Security Council and senior advisor at the Foundation for Defense of Democracies, "the Biden administration has publicly acknowledged that the regime in Tehran is actively plotting to assassinate Americans." Goldberg made this statement to Fox News Digital. "How on earth can they grant visas to the plot's masterminds? Denying Raisi and his delegation visas on the basis of national security would be fully compliant with both law and treaty responsibilities of the United States."
According to Iranian government spokesman Ali Bahadori Jahromi, Raisi would be attending the annual ceremony for the first time as president. The General Debate will begin one week after the U.N. General Assembly gets under way in New York City on September 13. The debate's second day has a prime speaking slot reserved for Raisi.
The United States has charged Raisi, a close friend of Supreme Leader Ayatollah Ali Khamenei, with a number of human rights breaches, including mass executions and repressive measures against political rivals. Despite taking office on August 5, 2021, he missed the previous General Assembly.
A list of Iranian officials sanctioned by the United States for violating human rights in 2019 included Raisi.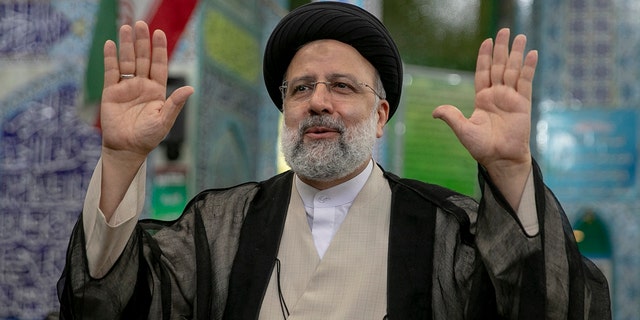 On June 18, 2021, the day of the presidential election in the Islamic Republic of Iran, Ebrahim Raisi, a candidate, waves to the media after casting his ballot at a voting booth in Tehran, Iran. Hassan Rouhani, the current president of the nation, is ineligible to run after serving two terms. (Image courtesy of Majid Saeedi/Getty Images)
Sens. Tom Cotton, R-Ark., Marco Rubio, R-Fla., and Ted Cruz, R-Texas were among a group of seven Republican senators who urged him on Tuesday to refuse the Iranian delegation's request for a visa in order to prevent them from attending the U.N. General Assembly.
Allowing Raisi and his goons to enter our country poses an impermissible threat to national security because of their role in mass murder and the Iranian regime's campaign to assassinate American officials on American territory, the senators wrote.
The letter stated, "If recent allegations that Raisi intends to attend the U.N. General Assembly are accurate, the White House must refuse Raisi and other Iranian officials visas to participate." Given the likelihood that IRGC personnel are present in the Iranian delegation, allowing Raisi to visit the United States while his agents are actively attempting to assassinate key American officials on American soil would seriously jeopardize our national security.
In talks with the United States over reviving the Joint Comprehensive Plan of Action (JCPOA), also known as the Iran Nuclear Deal, Raisi has remained a prominent player. He has adopted a strong approach to discussions, insisting that the United States eliminate its sanctions before Tehran would make any concessions, a theme he emphasized in his inaugural speech.
Resolution 2231, which backed the "full and effective implementation" of the JCPOA, was adopted by the U.N. in 2015.
As part of a "maximum pressure" campaign against Tehran, the U.S. withdrew from the JCPOA in 2018, but American officials insisted that they were entitled under Resolution 2231 to a "snapback" provision that would have allowed one country to reimpose all sanctions on Iran.
Adam Shaw from Fox News contributed to this article.
Fox Events Digital correspondent Peter Aitken specializes in covering local, state, and international news.