Here are the top headlines from Fox News Flash. See what people are clicking on FoxNews.com.
NEW Fox News articles can now be heard on audio! Sen. Ted Cruz, R-Texas, submitted a resolution on Monday arguing that the Department of Homeland Security ought to praise rather than reprimand the Border Patrol personnel riding horses who were unjustly accused of "whipping" Haitian migrants in Texas last year.
Customs and Border Protection (CBP) stated this month that there was "no evidence" that Border Patrol used whips or reins to strike Haitian migrants in Del Rio, Texas on September 19, 2021; however, the agency still suggested punishing the agents for offenses like using "offensive" language and using excessive force.
According to Cruz's resolution, Democrats like Biden, Vice President Kamala Harris, and Homeland Security Secretary Alejandro Mayorkas "rushed to judgment" when they falsely claimed that agents were using their horse tack to whip the migrants because they lacked the resources and personnel to handle the Haitian migrant crisis prior to the Del Rio incident.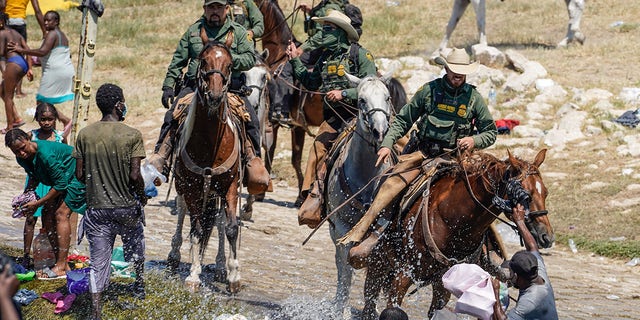 Border Control in the United States On Sunday, September 19, 2021, mounted police make an effort to stop migrants as they bridge the Rio Grande from Ciudad Acua, Mexico, into Del Rio, Texas. via Getty Images, PAUL RATJE/AFP
The resolution claims that Biden's immigration policies, which left the southern border "open and unprotected" and permitted a record-breaking 3,271,585 confrontations with Border Patrol personnel and illegal immigrants since the president entered office, were "self-inflicted" by the Del Rio event.
Cruz stated in a statement made available to Fox News Digital that "the true problem is not how Border Patrol personnel handle illegal aliens, but how the Biden administration encourages immigrants to disobey the law while undermining the heroes who are protecting our country along the U.S.-Mexico border."
Sen. Ted Cruz, R-Texas, submitted a resolution on Monday arguing that the Department of Homeland Security (DHS) should honor border patrol agents operating on horseback rather than disciplining them after they were wrongly accused of "whipping" Haitian immigrants. (AP Photo/Greg Nash/Pool)
He continued, "I've been at the border a lot, and I'm always amazed with the empathy that our Border Patrol displays to illegal aliens who have been mistreated or worse by the cartels that bring them to the border. "The Biden administration intentionally fueled the false story that emerged about our mounted agents in Del Rio last year, in addition to being involved in it. After an inquiry that turned up no proof of whipping, CBP's recommendation that those agents be disciplined is demeaning. Congress must support our valiant Border Patrol agents and stand up for the rule of law."
Cruz's resolution states that it "appears to be politically driven to give cover for the rush to judgment and flagrant mischaracterization by the Biden administration" that led to the four Border Patrol agents being placed on administrative leave following the Del Rio incident.
Despite a "lack of clear rules of engagement," the resolution commends all Border Patrol agents who responded to the crisis "for their use of restraint," and it comes to the conclusion that the Department of Homeland Security "should commend, rather than punish," the agents at the center of the controversy.
Fox News Digital correspondent Jessica Chasmar works there. Send story ideas to Jessica.Chasmar@fox.com or @JessicaChasmar on Twitter.