YouTube NEW Fox News articles can now be heard on audio! Facebook users recently uploaded a video of an 8-foot alligator taking its young hatchlings to the sea.
The Oklahoma Department of Wildlife Conservation (ODWC) shared the video earlier this week, which showed one enormous alligator putting in a lot of effort to look after its offspring.
The ODWC explained in a Facebook post that the 8-foot alligator has been constructing a 6-foot nest in the Red Slough Wildlife Management Area in McCurtain County, Oklahoma, since July.
FLORIDA ALLIGATOR OF MASSIVE SIZE SEEN STRAPPED TO BACK OF SUV
The Facebook post described the alligator as having "guarded the nest until August and then spent 13 hours digging out the 22 hatchlings and transporting them to adjacent water, one mouthful at a time."
Researchers have been keeping an eye on the alligator's nest and young, the ODWC reported.
TEXAS ALLIGATOR ASTOUNDS FACEBOOK VIEWERS WITH ITS SLIPPERY, STEALTHY MOVEMENTS
The alligator can be seen dragging its hatchlings out of the nest in the footage that was posted on Facebook.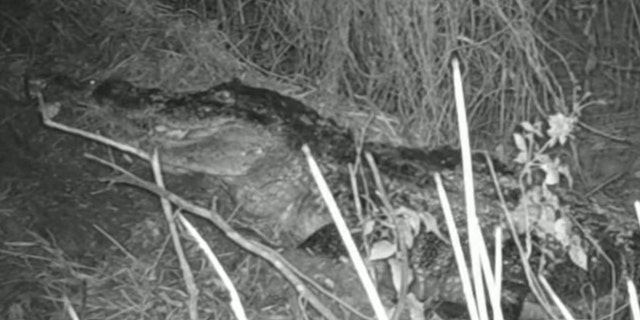 Facebook users appeared to enjoy the clip based on the comments.
One commenter commented, "Great to watch nature doing what it was supposed to do."