After a three-and-a-half-year absence, dragons are set to nest once more in HBO's (and HBO Max's) 9 p.m. Sunday night slot. Based on the (happily finished) chapter of George R.R. Martin's fantasy history novel Fire and Blood, House of the Dragon revives the Targaryens and their quite ferocious-looking pets in a tale that takes place 180 years before the original. There is more good news, too. Even though the last season of Game of Thrones disappointed many viewers, the new series really outperforms the first in some very significant ways. The series is overall skilled enough to revive a franchise that appeared to be on the verge of going out of business, despite the fact that it still commits a few crucial mistakes.
There is only one caveat. This most certainly isn't the long sought-after"Next Game of Thrones.'".
There is only one caveat. There is little doubt that this is not the much-anticipated Next Game of Thrones.
Since the announcement of the last season, major streaming platforms like Netflix and Amazon have been scrambling to replicate HBO's enormous hit. However, it seems more plausible that Game of Thrones, a high-profile fantasy film based on several (yet!) unfinished novels, would follow the same fate as Rome than surpass The Sopranos in terms of popularity. By the production's last seasons, it had been consuming too much of its own hype and had become a lifeless husk of what it once was.
Showrunners, though, are fixated on capturing that sense of cultural phenomenon. To fill the gaping maw of the eyeball economy, Game of Thrones built an entire content ecosystem. But a lot of the showrunners' inexperience was what allowed this ecology to thrive. They made a show that did away with basic televisual episodic storytelling, leaving open-ended space that was filled in by fan theories and speculation (and launched an annoying trend in premium TV). Websites gladly provided the performance with premium coverage in exchange for clicks. As a result, TV programming has drastically changed; instead of just providing summaries, each episode is now accompanied by explainers, fan theories, and minute things you may have missed.
When it comes to finding the perfect mix between a season-long plot and enjoyable episodes with real beginnings, middles, and finishes, House of the Dragon comfortably outperforms its predecessor. It helps that the showrunners this time around have experience; Miguel Sapochnik was the most creative and effective director Game of Thrones has ever had, while Ryan Condal previously co-created the series Colony. A dozen and a half characters are skillfully introduced in the first episode of the series (not counting the dragons). Even more impressively, House of the Dragon manages to keep all the characters and their relationships to one another straight throughout the course of the six episodes offered for review by distilling complex plots into a clear-cut palace intrigue thriller about the coming line-of-succession dilemma. That is no minor accomplishment given that the Targaryen family tree is more akin to an interminable incestuous loop with the names Rhaenyra, Rhaenys, Aemon, Aegon, Laena, and Laenor entwined. Characters are actually most easily recognized by how horribly the incredibly ugly silver-platinum wigs ruin their skin tones.
One of the only significant misses in what is otherwise a feast for the eyes are those wigs. They make everyone start to mix together and no one looks decent in them. Given how ingrained the Targaryen image was, I suppose we can somewhat blame Game of Thrones for this. However, someone ought to have made an effort.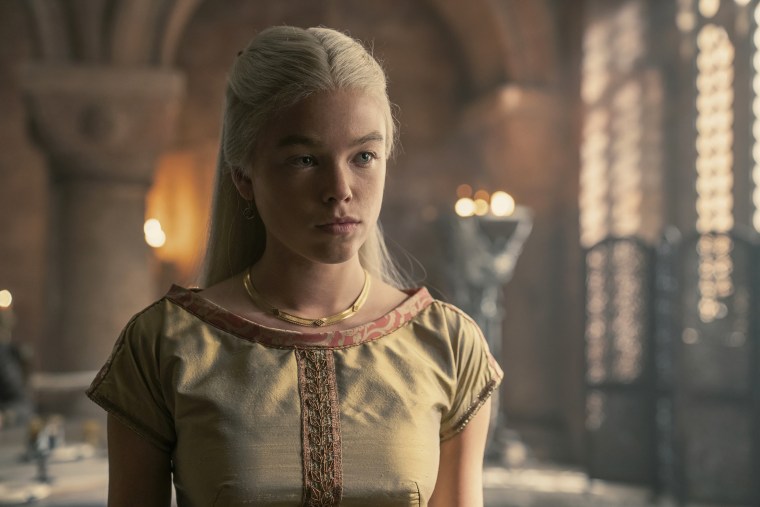 House of the Dragon also commits the grave mistake of trying to imitate the original's shock factor. Traumatic scenes in the first season of Game of Thrones, in particular, succeeded because they subverted the expectations of fantasy viewers. The ostensible hero is mindlessly killed by a greedy child; the good people are slaughtered in the middle of a wedding; a handsome knight desperate to conceal his sex life pushes a kind-hearted boy out of a window. In its debut episode, House of the Dragon makes an effort to frighten viewers with horrifying scenes of brutality, but it doesn't break any established fantasy clichés in the process. It's merely more brutality for the sake of adding violence so that people can claim, "Game of Thrones" is back and still stunning!" Thankfully, this dynamic swiftly fades away, as though the showrunners were relieved not to have to repeat it after having checked that box.
However, despite the lack of explicit sexual content, there is still much to enjoy in the new program. (The brothels are returning, though drastically scaled out.) As the Targaryen family's "black sheep," Matt Smith stands out in particular. (We can tell he's the bad guy because of his unusual name.) As King Viserys, Paddy Considine exudes the gravitas that Westeros has been perpetually searching for in a leader. In addition, all four actors who portray Princess Rhaenyra and Lady Alicent—Milly Alcock and Emily Carey in the beginning, Emma D'Arcy and Olivia Cooke once the show gets to the Targaryen civil war that Game of Thrones so frequently alludes to—are excellent, even though Carey and Cooke both benefit from being allowed to have a natural hair color.
House of the Dragon won't immediately generate the kind of buzz that propelled Game of Thrones to widespread popularity. It's unlikely that the series will produce infinite amounts of speculative clickbait. Even if it weren't so blatantly obvious, the landscape has merely changed (again). Additionally, it will have direct opposition from the high-profile Netflix and Amazon series The Sandman (which released a bonus episode this weekend) and Lord of the Rings: The Rings of Power, which will premiere in less than two weeks. House of the Dragon definitely wouldn't be able to defeat all opponents even if it had half the might of its parent series. However, I would cancel any recurrent Sunday night arrangements if you're just seeking for rich fantasy programming with lots of dragons and drama.