Here are the top headlines from Fox News Flash. See what people are clicking on FoxNews.com.
NEW Fox News articles can now be heard on audio! According to Fox News, Pat Cipollone, a former White House attorney, has gotten a subpoena from a federal grand jury as the Justice Department investigates possible crimes connected to the Capitol incident on January 6, 2021.
At the time of the demonstrations and the Capitol building breach, Cipollone was employed by the administration of the late President Trump. He previously testified before a House committee on January 6, which claimed Cipollone might know anything about a number of alleged initiatives by Trump associates to undermine the Electoral College.
Cipollone was questioned over his agreement with the statement that there was "no proof of electoral fraud sufficient to compromise the outcome of the election" during his attendance.
Cipollone replied, "Yes, I agree with it.
After giving testimony before the committee, former White House aide Cassidy Hutchinson stated that Cipollone had expressed concern that if a march on the Capitol resulted from Trump's rally on January 6 then that would expose him to legal risk for potential criminal charges like obstruction or inciting a riot.
Hutchinson said that Cipollone reiterated his worries on the morning of January 6 that "we're going to get charged with every crime imaginable" if Trump attempted to interfere with the certification of the election at the Capitol.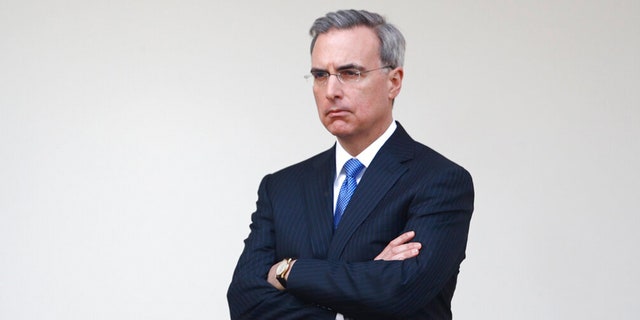 On March 29, 2020 in Washington, D.C., White House lawyer Pat Cipollone watches as President Trump talks during a briefing for the coronavirus task force in the Rose Garden. (AP Photo/File: Patrick Semansky)
Cipollone joins several senior members of the Trump administration who have already been before the grand jury. Vice President Mike Pence's former chief of staff, Marc Short, has previously testified before the grand jury.
Short admitted appearing before the grand jury on Fox News' "Special Report" with Bret Baier, but he did not reveal what was discussed.
The House Jan. 6 committee, which has been looking into the assault on the U.S. Capitol but lacks the authority to open criminal investigations, is distinct from the DOJ's investigation.
The Associated Press, Bradford Betz, Timothy H.J. Nerozzi, and Jessica Chasmar of Fox News all contributed to this story.