Rep. Jackie Walorski, R-Ind., was killed in an automobile accident in her home state of Indiana, as reported by Fox News congressional correspondent Chad Pergram in the video below.
NEW Fox News articles can now be heard on audio! Rep. Jackie Walorski's automobile crossed the center line, according to the Indiana sheriff's office, causing the collision that killed her and three other people.
In a head-on collision on Wednesday in Elkhart County, Indiana, Walorski, 58, communications director Emma Thomson, 28, and district director Zachary Potts, 27, all perished.
The lone occupant of the colliding car, 56-year-old Edith Schmucker, also perished. The Elkhart County Sheriff's Office revised its initial statement from Wednesday on Thursday by releasing the additional facts.
The office said that Potts was operating the Toyota RAV4 while Walorski and Thomson were riding along as passengers, and that all occupants of both vehicles were buckled up.
"Regarding the direction of movement of the cars, the data from the initial inquiry at the site was incorrect. The ongoing investigation has found footage and eyewitness testimony, "On social media, the sheriff's office posted.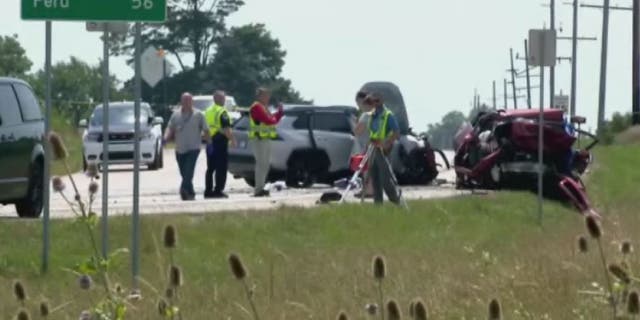 On Wednesday afternoon in Indiana, an automobile tragedy claimed the life of Rep. Jackie Walorski (WSBT-TV)
The office said, "The Toyota RAV 4 crossed the centerline for reasons that are now unknown and the two vehicles crashed." The Sheriff's Office is still speaking with witnesses and gathering information from the site and the vehicles.
Rep. Jackie Walorski, a Republican from Indiana, is shown in this July 19, 2018, photo speaking on Capitol Hill in Washington. J. Scott Applewhite/AP Photo, File
Emma Thomson, director of communications for Rep. Jackie Walorski, img3 (Fox News)
Following the unfortunate deaths of Walorski and the two staff members, lawmakers from all sides of the aisle expressed their sympathies.
Walorski served as Indiana's 2nd Congressional District's representative since 2013 and was regarded as a centrist who built relationships.
Fox News Digital journalist Timothy Nerozzi works there. You may email him at timothy.nerozzi@fox.com and follow him on Twitter at @timothynerozzi.