NEW Fox News articles can now be heard on audio! SECOND ON FOX: Sen. Tim Scott, a Republican from South Carolina, unveiled the first ad for his re-election campaign in which he discusses his childhood, principles, and why those things make him the greatest candidate for the South Carolina Senate seat in the upcoming midterm elections.
The "Cotton to Congress" advertisement is a component of a seven-figure ad buy that will run in the media markets of Columbia, Charleston, and Myrtle Beach. This coming weekend, at the USC vs. UGA football game, Scott's commercial will be seen for the first time.
"When my grandpa stopped attending school and started picking cotton, he was in the third grade. He was raised in the segregated South and never learned to read or write "The new advertisement, which Fox News Digital received exclusively, quotes Scott.
TIM SCOTT DENIES GOP WILL BE HURTED BY ROE OVERTURN, MENTIONING NORTHAM'S INFANTICIDE DISCUSSION
"He refrained from becoming resentful or a victim of life's hardships. He taught me about hard work and trust instead. He refused to pay attention to those who wished for us to despise our nation due to its past. Instead, dad taught me to cherish America for the hope it holds for the future. That man and my single mother raised me in poverty "Over a picture of his grandfather and mother, the GOP senator made the statement in the advertisement.
EXCLUSIVE BOOK EXCERPT: SEN. TIM SCOTT CONFRONTED TRUMP ON RACISM AND IT LAUNCHED A MAJOR ECONOMIC INITIATIVE
"owing to their fortitude, their principles, and this wonderful nation of opportunity. I am your senator in the U.S. Senate right now. Because of this, I will always stand up for America and the traditional values that make us unique and never give up or apologise for doing so. In a single life, Congress went from cotton to. Godspeed to the USA."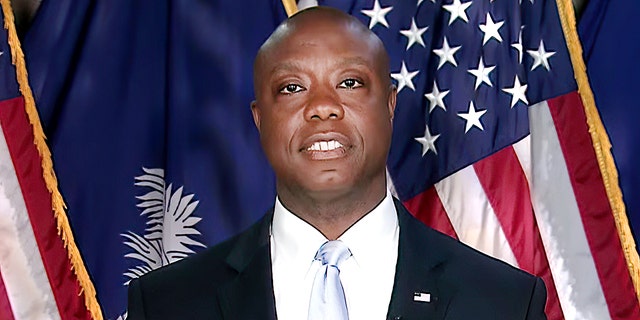 Scott was first elected in 2013 and is running for re-election this autumn against Krystle Matthews, a Democrat.
Scott recently introduced a bill to stop the IRS provision in the Democrats' Inflation Reduction Act that would fund the hiring of over 80,000 new agents along with Sen. Mike Crapo, R-Idaho, as a member of the Senate Finance Committee. The law would stop the IRS from auditing Americans who earn less than $400,000.
"President Biden's pledge not to raise taxes on middle-class and low-income Americans is completely contradicted by the Democrats' intention to expand the IRS. The majority of taxes collected via IRS inspections come from those with annual incomes of less than $200,000 "In a news statement announcing the new bill, Scott stated.